Simon Shares
Purple Group* (JSE code: PPE) now has 1million clients across all platform. A wowzer number.
Combined Motor Holdings (JSE code: CMH) full year results. Second half saw decent cash flow, back to profit and dividends.
Metrofile* (JSE code: MFL) are cancelling 4.18628% of their treasury shares.
MTN (JSE code: MTN) first-quarter update, good numbers with group EBITDA +21.3%. Forward PE of around 11x is decent as it's being priced as a utility, albeit was even better back at 6000c when forward PE was c8x.
Revego (JSE code: RVG) cancelled the listing.
Upcoming events;
---
---
PGMs Flying, miners not so much
Palladium above US$3,000 (all-time high)
[caption id="attachment_26363" align="aligncenter" width="888"]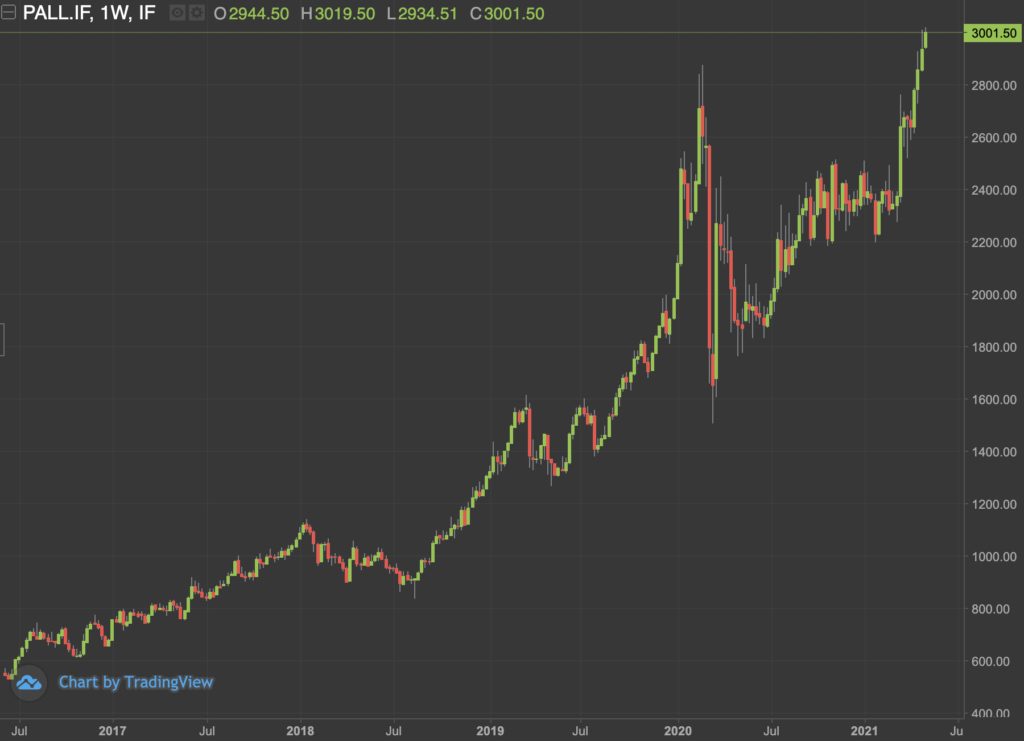 Palladium weekly chart[/caption]
Platinum above US$1,200 (six-year high)
[caption id="attachment_26365" align="aligncenter" width="888"]
Platinum weekly chart[/caption]
Rhodium above US$29,000 (all-time high)
PGMs are considered a 'green' metal in that they help reduce CO2 emissions.
Demand remains above supply.
But production will increase.
Scrap is increasing (especially with iron ore at records)
Rand is strengthening and will likely continue to do so
But the listed miners are languishing nowhere, why?
=====
JSE – The JSE is a registered trademark of the JSE Limited.
JSE Direct is an independent broadcast and is not endorsed or affiliated with, nor has it been authorised, or otherwise approved by JSE Limited. The views expressed in this programme are solely those of the presenter, and do not necessarily reflect the views of JSE Limited.