Simon Shares
This JSE Direct is proudly brought to you by IG, the specialists in CFD trading and a registered financial services provider.
September was such a rough month that the best performing full equity fund in South Africa returned -0.4% for the month. Not a single full local equity fund was positive.
Upcoming events
Small cap pain
Small caps, we love them because when they get going - they go. Really go. Ten baggers are a dime a dozen when things are hot and markets are running.
But right now - not so much (see chart below) and here's why.
---
---
Firstly small caps are typically very SA Inc focused due to their smallness. Now this is not 100% true as there are stocks with offshore exposure, but generally the statement holds. That being said the economy is struggling, recession, VAT increases, petrol prices etc. are all putting the kosh on the economy and hence SA Inc and smaller stocks.
The bad news is that I don't expect this to change any time soon. Make no mistake there are a bunch of high quality small caps at very attractive valuations. Companies that are not going to go bust and in many cases continue to make profits even in these tough times. The problem is that the same can be said of the large Top40 stocks. Sure some dogs in this index, but equally some really great companies at attractive valuations. Forward PE on the Top40 is 13x, cheapest I have seen it in a decade. Yet the selling continues.
Further before small caps start to run I'd expect the larger Top40 stocks to run hard, become expensive and then investors start hunting down the list and buying the small cap stocks. So with the large stocks not running we have little chance that small caps will start to run.
I hold a few small (and mid) cap stocks, and I continue to hold but I am not running in and buying, even at these levels. I have enough and I don't see them recovering any time soon.
[caption id="attachment_8634" align="aligncenter" width="1080"]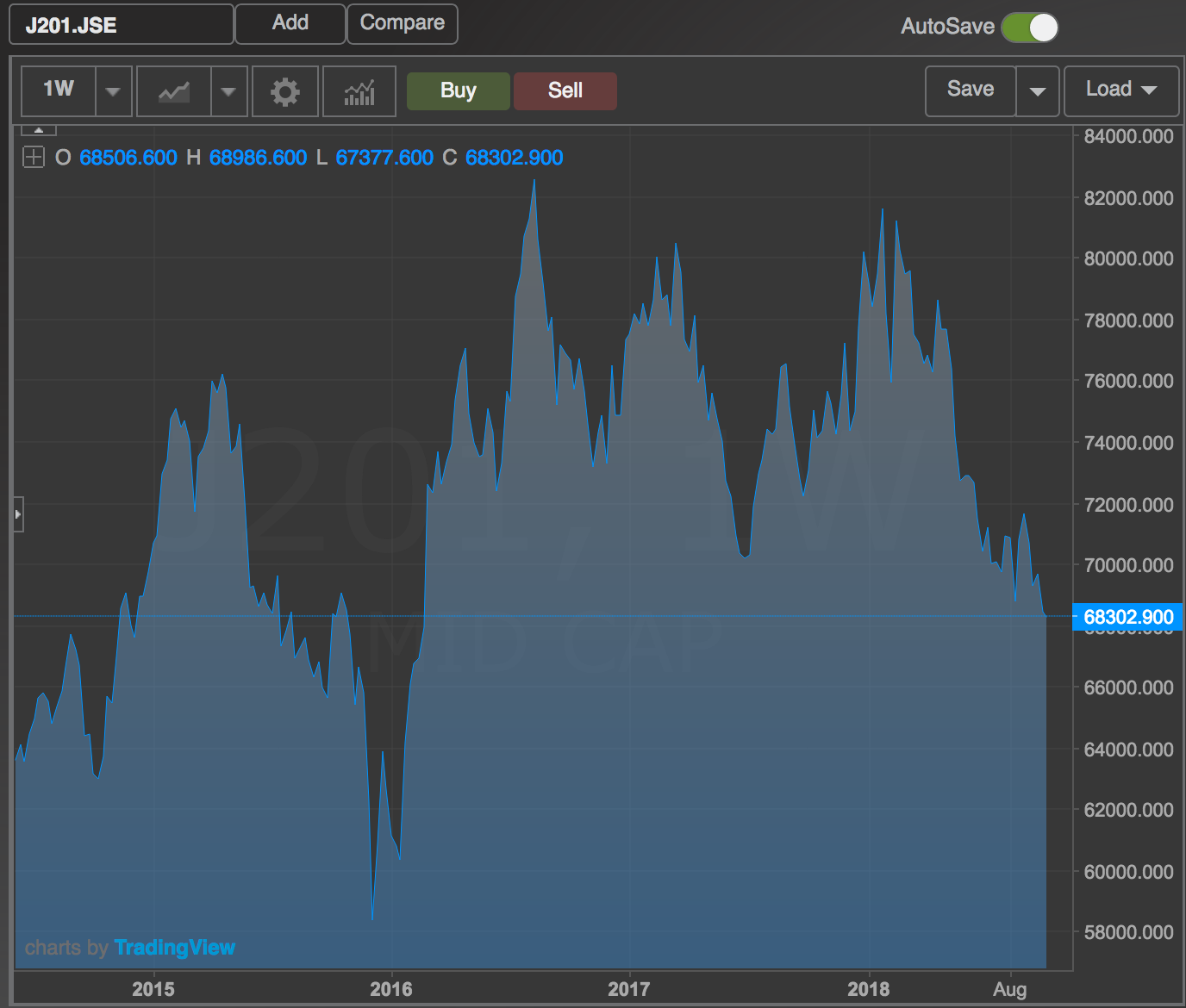 MidCap weekly close 03Oct18[/caption]
---
JSE – The JSE is a registered trademark of the JSE Limited.
JSEDirect is an independent broadcast and is not endorsed or affiliated with, nor has it been authorised, or otherwise approved by JSE Limited. The views expressed in this programme are solely those of the presenter, and do not necessarily reflect the views of JSE Limited.
---