Simon Says
Another week another vaccine.
U.K. economy is forecast to contract by 11.3% this year, "the largest fall in output for 300 years," Chancellor Rishi Sunak tells MPs.
US Jobless Claims +30K To 778K In Nov-21 Week, secondly weekly rise. Continuing Claims -299K to 6,071,000 for Nov-14 week.
Dow Jones trades above 30,000 for the first time on Tuesday & S&P500 closed at a new all-time high. Dow 20,000 was 25 January 2017 and 10,000 29 March 1999 (12,000 was September 2007).
Lewis (JSE code: LEW) results with a 133c interim dividend. Double that for the full year makes for a yield fo some 11.9%.
Stor-Age* (JSE code: SSS) offering their dividend as cash or new shares issued at 1240c. People asking what I'm doing? Taking the shares.
Adcorp (JSE code: ADR), stock was 130c on 15 October ahead of their trading udate. Results in Wednesday saw it trading at 600c
[caption id="attachment_24206" align="aligncenter" width="888"]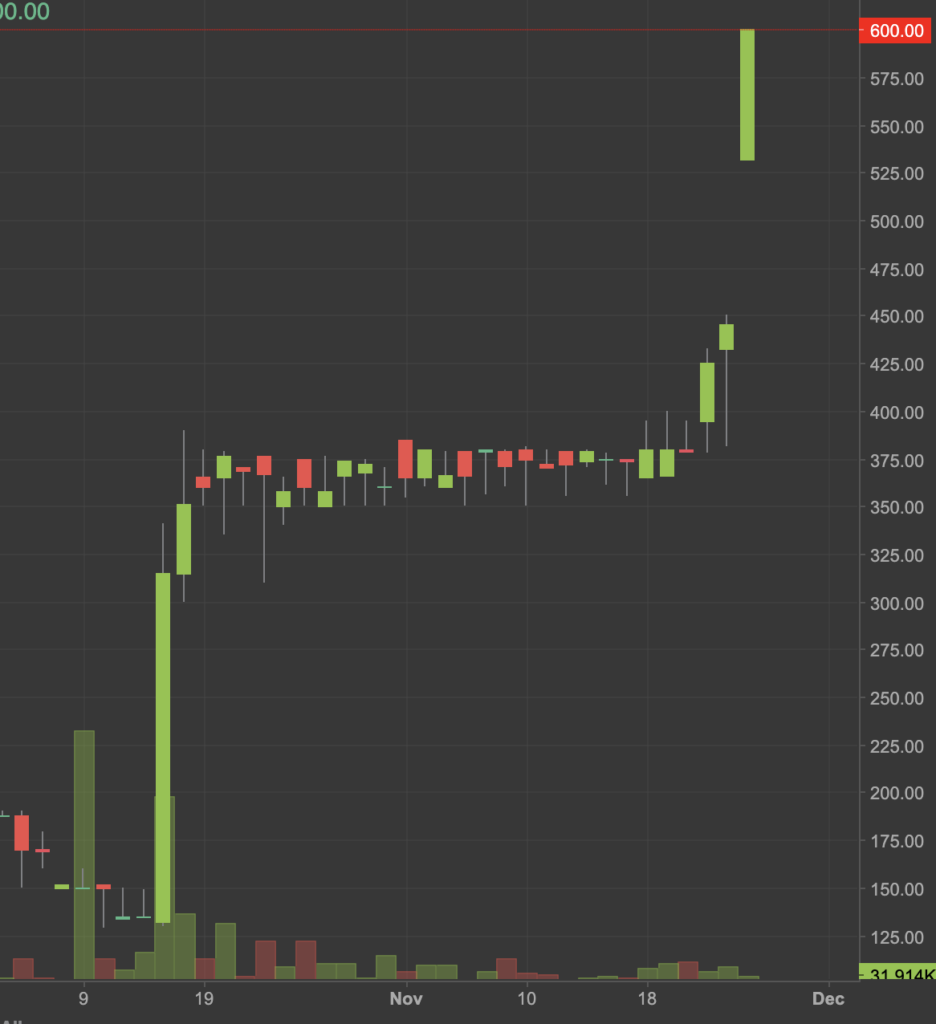 Adcorp Daily[/caption]
Upcoming events;
---
---
Bitcoin is tiny, even at highs
Disclaimer upfront, I have been buying Bitcoin because I like to own things that are going up, my average entry price is R204k. This is a trade, so I will take my money at some point.
Looks certain to make new all-time highs and US$20k surely sooner rather than later.
Not a bubble this time, as it was in 2017. That doesn't mean can't collapse or can't become a bubble.
Interestingly the narrative has changed, the talk of Bitcoin for payments, something I said was a long long way off, is no longer the biggie. Now it really positioning itself as an alternative asset. Remember how blockchain would save the world?
But here's what was really interesting to me, the market cap of Bitcoin. ±US$400billion! Less than Tesla, in fact very tiny. Consider how many exchanges, blogs, shows and chatter about this one asset that is so very small. The size also restricts large institutions getting involved.
For comparison, gold is about US$9trillion, NYSE about US$30trillion and total US debt US$27trillion.
---
JSE – The JSE is a registered trademark of the JSE Limited.
JSE Direct is an independent broadcast and is not endorsed or affiliated with, nor has it been authorised, or otherwise approved by JSE Limited. The views expressed in this programme are solely those of the presenter, and do not necessarily reflect the views of JSE Limited.
---